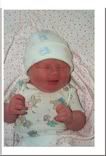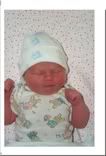 Dear Sisters,
Thank you for all of your prayers. It was really felt as I was delivering Deborah Sue. She was born on Monday May 8, at 7:13 pm.
She weighed 9lbs. 3 oz.
She is currently breastfeeding every 1-2 hours at night. I am worn out with that but it does not last long. I will post her birth story tomorrow for those of you who are interested.