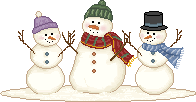 No I am not looking for trouble. But I do want people to know that there are more of us out there than they would like to believe. Yes we have a large family, we headcover, we homeschool. We are dedicated Christians that believe the word of God(KJB) to be our finalo authority. NOT what some pastor, priest, or pope tells me to belive.
I always find a visit to Abundant Blessings Homestead to be uplifting and a great encouragement.
And as for me I will continue to visit and encourage Deanna to post. The Lord wants people to take a stand for him. We can not stop just because it offends some people.