Mr. Visionary is working at a recycling center along with pastoring. Some days he brings home the best things from the center. The other Saturday he brought me some Khols gift cards. They were sent out in a promo and the ones the post office could not deliver went to be recycled. Well the cards were a thin plastic so they could not go with the paper and I had mentioned I would like to go to Khols and see what deals they had. Mr. Visionary grab some of these cards and off we went. They did say that it was one card per person and that you had to spend 10 of more and then you could get 10 dollars off.
Well, we had all seven children with us so we got some items for them. Turtlenecks were 2 for 10 so with a card those were free. We also got tights for the girls. 3 pairs for .21 cents. Jeans for one of the boys for 3 dollars. It was great.
We also stopped at a moving sale a friend was having and decided to buy their couch which ment we had to be back by the Khols that monday.
Time for mama to get some stuff for her and papa.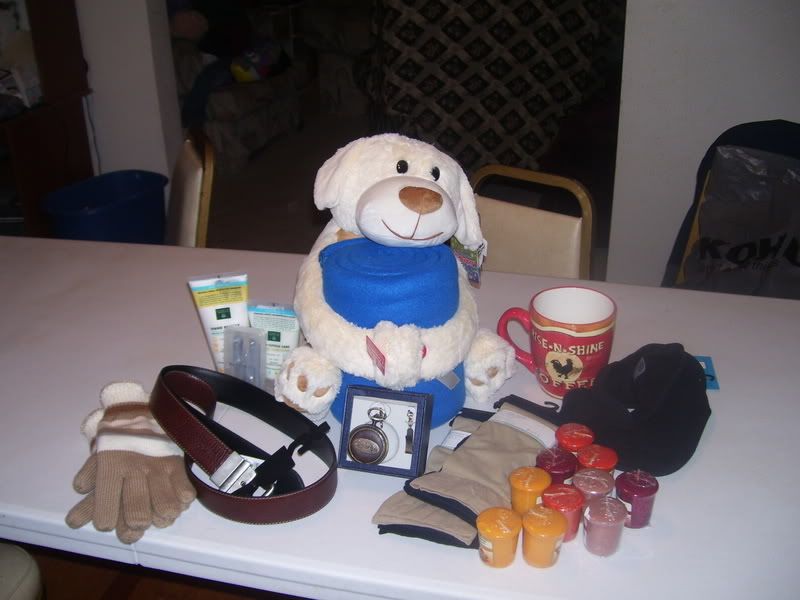 Here is what all we bought
For mama
Isotoner gloves
Yankee candles in autumn scents
Manicure set
6 pair trouser socks
Huge coffee mug with Rooster on it.
For Papa
Belt
Face mask for out in the cold
For Gifts
Puppy dog with blanket
2 pocket watches
Total price 136.00
We paid 11.00
Gotta love coupons.