Oops, I missed the first 2. I'll try to pick them up when I can.
Anyhow here goes.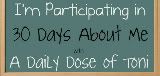 Favorite TV Show
Hmmm this is hard since we don't really watch a ton of TV hubby and I have shows we watch together but it really is a take it or leave it, not I am gonna plan schedule around that show.
I guess for me my number 1 show would be
Due South!!
It is a wonderful show that you can watch with your children. My boys love it cause Frasier is such a gentleman. They love watching the mountie with mama! The girls love it for other reasons ;) And thankgoodness for youtube so we can watch it when we want
The other show we enjoy is Little House on the Prairie. We are currently watching season 6 and loving each episode.