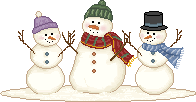 10 Things You Want for Christmas (or the Holidays)
Okay this is my wish list and I am going to dream with it.
1. A church for Mr. Visionary to preach in
2. Gloves, scarves and hats for all children.
3. New church clothes for famil.
4. Infant car seat.
5. Violin for boys.
6 Harp for girls.
7. Sewing supplies.
8. Suburban for family.
9. School supplies for next year.
10. Trip with Mr. Visionary with no children.