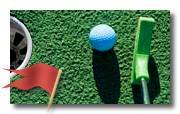 It was friday night date night. It had been a long time since we had gone out and I wanted to go minature golfing. The course was beautiful and we had a great time. I hit my ball into the water hazard and my brave hubby fished it out for me. He won, and no I did not let him win, I just was not very good but had a great time.
Then he decided it would be fun to do the driving range. This was a first for me and boy did I stink at it. But hubby had a great time. I would not mind going back and practicing some more. Maybe I will get us each a driver so we have a reason to go :D.
What do you do to date your mate? I think it is so important to go out with your hubby and have fun together.