Blogging parties are so fun!!
And this one is about keeping our homes clean. I will be the first to admit that that is something I need to work on. So I was super excited when a friend sent me the book.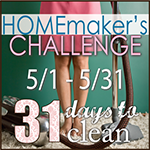 And then another friend posted on this blog party about the book. So I signed up.
Join us, just click on the picture of the book and you will be taken where you can sign up.